9 Ways To Make Your Home Zen And Beautiful With Bamboo
We appreciate all the beautiful things. We love to make our home beautiful and comfortable by creating original decorations that make our interior look like us.
But after a while, our favorite decorations may become outdated.
Sometimes we have to bring something new into our house to make it live and creative. The new things do not have to be big or expensive, but simply new.
A nice home is a perfect home to nurture creativity. We will show you some possibilities that would make your new interior, inventive and zen. 
9 Ways to Make Your Home Zen and Beautiful with Bamboo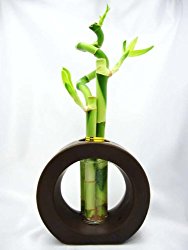 1. Plant 
It is an indoor plant very used because easy and very pretty.
It can grow in a bathroom without a window, so it tolerates a dim light.
There are many different vases to choose from, but this one is nice because of its interesting shape.
---
2. Water fountains
The water fountains are always a plus in an interior as they have a very nice design and are superb on a coffee table or entry table. The sound of the water is very relaxing.
Use distilled water to prevent the accumulation of tartar and put a few drops of essential oils in the water to prevent bacteria from developing.
---
3. Candles
Candles are a great inexpensive way to add a new look to your room.
Look for unscented candles.
Some perfumed are very toxic.
---
4. Sheets
If you have never touched bamboo sheets, then you will be surprised.
The bamboo sheets are incredibly soft, but not only.
They are silky and smooth, but also warm and comforting. 
---
5. Wind Chime
The sound of bamboo blowing in the wind is very comforting.
Hang it out of an open window and enjoy.
---
6. Cutting board
If you like cooking, choose bamboo kitchen utensils such as: bowls, spoons, drying racks, etc.
Using beautiful kitchen tools, cooking becomes more enjoyable.
---
7. Computer Keyboard
It is another way of making the practical objects of everyday life more beautiful.
If you work a lot on a computer, this will make your office more enjoyable.
---
8. Game board
It's nice to play on a nice bamboo board.
This is also a great gift idea.
---
9. Balance
Even your bathroom can be beautiful.
And if a bamboo scale is not enough, you can even choose your bamboo toothbrush.